7 Countertop Materials to Consider for your Kitchen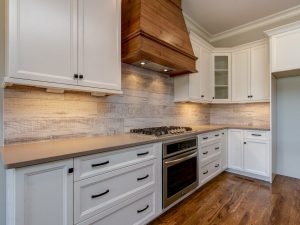 Choosing the right countertop material for your kitchen is a big decision. It's about finding the right balance between something that is functional and also beautiful, that will also match your cabinets, appliances, floors, backsplash, wall color, and more. If you choose to work with one of the top custom home builders in NC, they can recommend the best countertop materials for your kitchen. Here are some ideas to get you started. 
Granite. 

Still one of the most popular countertop materials, granite is known for its strength and beauty.

 It is a naturally occurring material that is mined, cut, polished, and sometimes dyed.

 Available in a variety of colors and grains, granite can match any décor. It is resistant to scratching and chipping, but it does have to be sealed against moisture. 

It's best to wipe up spills right away and use coasters and trivets under hot or wet containers. 

 

Engineered stone. 

Made primarily from quartz, engineered stone is manufactured to be more durable. It is just as beautiful as natural stone, but it doesn't have to be sealed. It offers the same polished look as granite or marble, but it typically costs less and isn't as fragile. It is often sold under the name Caesarstone, Cambria, or Silestone. 

 

Concrete. 

When polished, concrete mimics granite and other stones. It is fully customizable to fit any kitchen and it can be dyed any color, including patterns. Concrete does have to be sealed to prevent moisture damage and staining. 

 

Stainless steel.

 

One of the most versatile and convenient countertop materials, stainless steel can match any décor from farm-style to modern industrial. Steel is strong, heat resistant, and scratch-proof. As a food prep surface, it is ideal. In the long, long run it could potentially rust, but you probably won't be around to see the day. 

 

Wood. 

The softer, warmer look and feel of wood creates a different ambiance in your kitchen. It can be stained or painted any color and sealed to prevent damage. Scratches or divots can be easily sanded down. The only concern: place hot items on trivets, including your crockpot. 

 

Glass.

 An elegant countertop material, glass 

is available in a variety of colors and thicknesses. It offers a reflective sheen and can handle high temperatures with ease. The only drawback to glass is that 

its

 fragile nature makes it susceptible to cracks or scratches. 

 

Soapstone. 

Aptly named for its similarity to bar soap in appearance and texture, soapstone is a luxurious countertop material. It is heat and stain-resistant, but it scratches easily. However, those scratches naturally smooth out over time or can be sanded down. One characteristic of soapstone is that it darkens over time

, meaning the color you choose now may not look the same years later. 

 
You have the Freedom to Choose Any Countertop Material with 
R&K, One of the Best 
Custom Home Builders in NC
The beauty of working with one of the top custom home builders in NC, R&K Custom Homes, is that you have complete creative freedom to design your kitchen exactly the way you want it. You can choose any countertop material for the kitchen of your dreams. Call R&K Custom Homes today: (336) 362-5225.  
https://www.randkcustomhomes.net/wp-content/uploads/2016/08/logo.png
0
0
Chaunte Rankin
https://www.randkcustomhomes.net/wp-content/uploads/2016/08/logo.png
Chaunte Rankin
2019-06-09 15:44:03
2019-07-16 17:37:44
7 Countertop Materials to Consider for your Kitchen