5 Common Home Decorating Mistakes and How to Avoid Them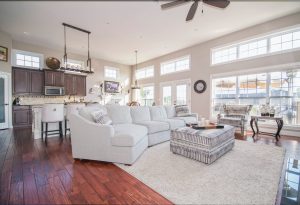 Decorating can be difficult. Not everyone has a natural eye for home décor, and if you fear you may be lacking in that particular skill, don't worry. When you work with custom home builders in NC to design your new home, your interior will be like a fresh canvas to develop as you please. Even if you don't wish to hire an interior decorator, you can still achieve the look you want by avoiding these 5 common home decorating mistakes.  
Wrong-Sized Furniture. The furniture you choose has the biggest impact on the interior décor of your home. Choosing items that are too big or too small for the space can make a room look all wrong. Before you shop for furniture, measure your rooms to be sure you know what will fit and what won't. 

 

Bad Lighting. Too much light or too little light can be a problem for any room. Think about the purpose of the room and design the lighting to be functional and to set the right mood. Dimmer switches are ideal because you can brighten the lights when you need more light and dim them when you want a softer atmosphere. 

 

Misplaced or Improperly-Sized Rugs. A rug that is too big, too small, or out of place can ruin the décor of a room. The living room rug should be the size of the seating area only. A dining room rug should fit the size and shape of the table, leaving some room around the edges for chair legs to remain on the rug even when pulled out for seating. Foyer rugs or hallways runners should lay in the direction that traffic moves naturally. 

 

Wall Art Too High or Too Low. Any wall hangings, whether framed or otherwise, should be at average eye level (between 5'3 and 5'8). Art that is misplaced will look awkward and feel awkward to view. 

 

Everything Matches. When everything in a room matches too well it can make the room look monotone and boring. Mixing and matching colors and textures, using accents such a throw pillows, will create a complementary look. Too much contrast can make the room look scattered and disorganized though, so be sure all items come from a similar color palette.

 
Experienced Custom Home Builders in NC Can Offer Ideas and Suggestions for Interior Décor
The builder's job is to design and build homes from a structural standpoint, including the layout and features of your home. In addition, custom home builders in NC with years of experience like the team at R&K Custom Homes can offer suggestions from an interior décor standpoint as well. Working with many different customers and building a variety of original homes gives R&K extensive knowledge of varying styles. Choosing wall colors, flooring materials, cabinet colors, and countertops are all part of the décor in your home. Knowing the look you want to achieve is important when selecting these items. Avoid the 5 mistakes above and you're sure to have a beautifully decorated home that you'll still be happy with for years to come. Call R&K Custom Homes to get started on your new home today: (336) 362-5225.
https://www.randkcustomhomes.net/wp-content/uploads/2016/08/logo.png
0
0
Chaunte Rankin
https://www.randkcustomhomes.net/wp-content/uploads/2016/08/logo.png
Chaunte Rankin
2018-08-18 15:43:37
2019-01-18 15:49:52
5 Common Home Decorating Mistakes and How to Avoid Them