Choosing the Best Location For Your Custom Home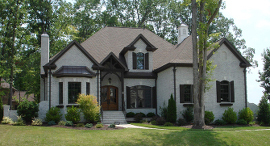 There are three things that are crucial when building a custom home: location, location, location. Having the perfect home isn't as exciting if it's not in the right neighborhood. There are several things to consider when choosing the best location that is just right for your custom home. At R and K Custom Homes in Greensboro, we will sit down with you and figure out where your dream home should be located.
What is important when choosing the best location for your custom home?
If you have children, look at the local schools and decide which one would be best. Having your home close to you child's school can alleviate the stress of getting your children to school and picking them up on time everyday. And having them in the best school can be vital for their future.
Also look around at what is close by the lot you are considering. Is there shopping close by? Are you far enough away from highways, trains, or other things that might keep you up at night? Are you close enough to work that you won't have a long commute?
Different neighborhoods come with different characteristics. You will want to consider this when choosing the best location for your custom home. You'll want a place that fits your lifestyle and personality, where you'll feel comfortable and where you are most likely to get along with your neighbors.
Another thing to think about is proximity to friends and family. You may want to be as close as possible to your relatives so you have the reassurance that in case of emergency someone you know and trust will be close by. However, keep in mind, your friends and family may move at some point.
At R and K, we keep an inventory of lots in several different subdivisions and price categories to choose from. We encourage you to view these lots. They are located throughout the Greensboro area, nestled among the natural beauty of the area, from peaceful wooded surroundings to rolling hills. At R and K Custom Homes, we believe where you live is as important as how you live.
When you do decide on the right location and are ready to build your custom home, call R and K Custom Homes in Greensboro. We will build you a quality home with the latest in design and amenities offering all of the comforts available today. We are passionate about what we do: "Crafting Homes… Building Memories".
By: Kathleen Dumas
https://www.randkcustomhomes.net/wp-content/uploads/2016/08/logo.png
0
0
randknew
https://www.randkcustomhomes.net/wp-content/uploads/2016/08/logo.png
randknew
2014-08-14 09:50:53
2016-11-04 07:38:46
Choosing the Best Location For Your Custom Home