Creating the Ultimate Spa Bathroom in Your Custom Home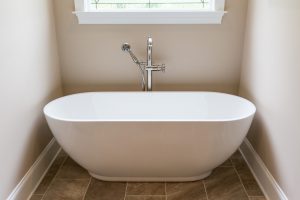 Countless people love the experience of heading to a spa for a relaxing session. How much more relaxing would it be when you don't even have to leave your home to get the "Spa Treatment?" You can have it all and then some by designing a luxury spa bathroom into the custom home that you are preparing to build. The power of a custom build is that you can get exactly what you want from the start, and that includes adding features to a bathroom that just aren't found in a typical home.
To work with one of the best Greensboro builders on this custom home project, reach out to R & K Custom Homes today. As experienced homebuilders in Greensboro with a long list of satisfied clients to their credit, you can trust R & K to deliver on even the highest of expectations.
It Starts with Space
While it's possible to create a spa-worthy bathroom in a compact space, there is no reason to limit yourself when building a custom home. You are starting with a blank slate, so why not reserve plenty of space in the floor plan for a large primary bathroom? Make this component a priority in your design and think about how the bathroom is going to fit in with the rest of the layout you choose. Often, this big bathroom will be attached to the primary bedroom of the home, but you are free to do what's best for your needs.
Pick Out the Right Features
Perhaps the most exciting part of this process is selecting the features that you want to include in the bathroom of your dreams. Some popular options include a large soaker tub, a steam shower, a double vanity, heated floors, and more. As you start to shop for the right components to bring the bathroom together, you'll really start to see the value of having ample space come into place. The more square footage you have to use in this bathroom, the more features you'll be able to include.
Making Design Decisions
It's not only the function of your bathroom that will determine your enjoyment of the space but also the visual appeal that it offers. You could go in many different directions here, such as using white as your main color with only small accents around the room, or you might like to feature something unique for a bold and retro look. Feel free to ask your builder for design help if you aren't confident in making all of these choices on your own.
Remember to Include Open Space
A crowded, cramped bathroom isn't really the goal when looking for the spa experience at home. Yes, you want to have nice features to enjoy, but there is also a calm and peaceful feeling that comes with having plenty of open space available. As you craft a plan and work with your builder to determine how the bathroom will come together, remember to leave plenty of open space to keep the room comfortable.
R & K Custom Homes is the ideal partner for this exciting project, so get in touch today to get started.
https://www.randkcustomhomes.net/wp-content/uploads/2016/08/logo.png
0
0
R & K Custom Homes
https://www.randkcustomhomes.net/wp-content/uploads/2016/08/logo.png
R & K Custom Homes
2023-06-27 16:35:04
2023-06-27 16:35:04
Creating the Ultimate Spa Bathroom in Your Custom Home