Greensboro Home Builders: Making the Best Use of One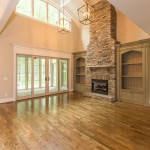 Even if this is not your first time to build a custom home in Greensboro, you may not realize just how much help is available to you every step of the way. There are so many options available, and decisions to be made when building a house from the ground up, that it can be quite an overwhelming process. Most companies are quite happy to offer you the benefit of their experience, and it is almost always in your best interests to do so. Here are some of the most important times to ask for their input.
Choosing Upgrades Offered by Greensboro Home Builders
When you decide to go with an upscale option as you build a custom home in Greensboro, you will want to make sure that your choices will be compatible with your floor plan, lifestyle and location. This is particularly important with large scale items such as flooring. It stands to reason that professionals will be far more knowledgeable about the advantages and drawbacks of each option than most buyers could possibly be. This is also true of such things as the various types of materials used on the exterior of your homes, cooling and heating choices, and much more.
Greensboro Home Builders Have Solutions to Your Problems
When you build a custom home in Greensboro, it is in an effort to meet all your needs and preferences. But sometimes, you are stumped when it comes to bringing them all together. Maybe the available floor plans don't quite offer what you are looking for or you can't figure out how to incorporate a particular feature. This is where experience is invaluable. When you tell them exactly what the problem is, and what you are hoping to achieve, they will be able to give you options to choose from.
You might be amazed at how easy and inexpensive some of the solutions can be. Try to be as detailed as you can be about your lifestyle and the features that are most important to you at your very first meeting, then everyone is on the same page from the beginning.
Let Greensboro Home Builders Guide Your Choices
Even if you've been collecting photos of your dream house forever and know exactly what you want in all the rooms, when it comes time to build a custom home in Greensboro, turning those photos into reality can be a bit tricky. For instance, choosing paint colors can be a nightmare for some people. It's almost always obvious when you enter a room, if the wall paint was chosen by a professional. They just have that extra something. Or maybe some of the features in the photos have drawbacks that you are not aware of. Whether for large scale areas like floors and exteriors, or smaller upgrades, it never hurts to just get a little more input.
R & K Custom Homes is one of the premier Greensboro home builders. Call (336) 362-5225 to let them guide you every step of the way to the house of your dreams.
https://www.randkcustomhomes.net/wp-content/uploads/2016/08/logo.png
0
0
randknew
https://www.randkcustomhomes.net/wp-content/uploads/2016/08/logo.png
randknew
2016-06-01 13:20:13
2016-11-04 07:04:12
Greensboro Home Builders: Making the Best Use of One