What Makes a House a Home? The Value of Custom Homes in Greensboro, NC
Cookie-cutter houses just don't cut it anymore, and this rings true for many people looking for homes in Greensboro, NC and other states across the nation. Those who are willing to invest deeply into their properties are opting to work with custom builders to make sure that their houses will be a clear reflection of their wants and needs down to the tiniest details. The National Association of Home Builders (NAHB) underscores the reason why custom homes are rising in popularity: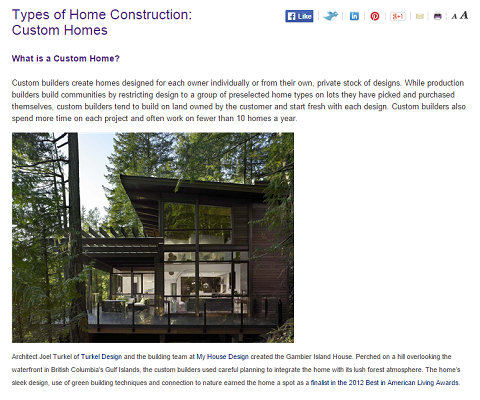 Custom homes stand out from the crowd. They are each one-of-a-kind and are typically upscale with luxury upgrades and unique architectural design. These homes can be more stylized than many production homes—a buyer can contract anything from a luxury log cabin in the woods of Vermont to a pueblo-style home in New Mexico.
Aside from aesthetic considerations, the value of a custom home also lies in the way it accommodates particular lifestyle needs. For example, a multi-generational family may need more than one living room to fit all occupants. Those who are planning on living in their homes after retirement may want to look far ahead and build a one-story house where convenience is priority. Those who have less-abled family members or loved ones afflicted with a chronic disease may consider this simpler accommodation when designing for their home's amenities.  The beauty of a custom home is that it can be built to respond to special needs and requirements, thus making a home truly one's own.
While these personalized features are very attractive, they certainly do not come without the corresponding investment in effort, planning, time, and money. Compared to production home builders, companies who build custom homes in Greensboro, NC typically encourage a higher level of owner participation throughout the whole process. The process of R & K Custom Homes, for instance, involves several steps, such as an initial consultation, a pre-construction meeting, a detail selection process, a final walkthrough, and a new-home orientation. All of these are designed to give clients total control of their home, ensuring that the final results reflect their wishes completely.
As an investment that will last for years, even across generations, a house naturally becomes more than a structure for its owners. More and more people are seeing their homes as an extension of themselves, leading them to pour their hearts and resources into their construction. As a result, custom homes become far more unique structures with living spaces that become animated with memories and imprints of life changes and growth of their occupants, making these homes a dynamic part of their lives.
(Source: Types of Home Construction: Custom Homes, NAHB)
https://www.randkcustomhomes.net/wp-content/uploads/2016/08/logo.png
0
0
randknew
https://www.randkcustomhomes.net/wp-content/uploads/2016/08/logo.png
randknew
2014-10-23 03:45:58
2016-11-04 07:35:53
What Makes a House a Home? The Value of Custom Homes in Greensboro, NC