New Homes by Building Contractors in Greensboro, NC Have Advantages
If you are in the market for a home, you have two choices: 1. Try to find an existing home in Greensboro that meets your needs and wants or 2. Hire a building contractor in Greensboro, NC to custom-build the home of your dreams. The right choice seems obvious. There are definite advantages to having a new home built to your specifications. And it's more than just that. New homes are equipped with energy efficient appliances and state of the art interior design. The latest and greatest features in homebuilding can be incorporated into your new home.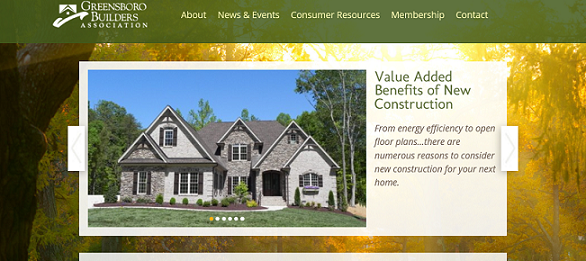 Energy efficient appliances will save you money now and for years to come.
The latest Energy Star appliances such as water heaters, HVAC systems, and kitchen appliances are the most energy-efficient products on the market. Have these products installed in your new home and enjoy the savings they will bring you for years. Existing homes may not have updated appliances and you may find that replacing these important items is an added expense on top of the price of the home. Or if you choose not to replace outdated appliances, you may find that your energy bills are much higher. Choosing your own brand new appliances is one big advantage to having a custom-built home.
New homes can be custom-built with the latest interior design features.
Open floor plans have been popular in the recent years, and new variations of open floor plans are being created all the time. New layouts are designed with modern lifestyles in mind. Vaulted ceilings and rooms that seem to flow from one to the next give homes a spacious feeling. Floor plans are based on convenience with mudrooms with storage, laundry rooms close to bedrooms, and large walk-in closets. Media is a priority with built-in electrical wiring for TV, sound systems, security systems, and even whole-house intercom/stereo. Home offices are a valued feature as technological advances make it possible for more people to work from home. When you have a new custom home built, you have access to innovative features.
The building of new homes benefits the community.
New construction creates local jobs. On average, each new home that is built creates 3 jobs in the community. The property taxes benefit local schools and other community-based organizations. When you have a new home built it improves the area where you live or are planning to move, and that in turn benefits you.
R & K Custom Homes is at the top of the industry of Greensboro homebuilders.
R & K Custom Homes custom-designs new homes in Greensboro that include state of the art floor plans, energy-efficient appliances, and modern design features. Among building contractors in Greensboro, R & K Custom Homes stands alone in terms of quality craftsmanship. When you are ready to build your dream home, give us a call: 336-643-3503.
https://www.randkcustomhomes.net/wp-content/uploads/2016/08/logo.png
0
0
randknew
https://www.randkcustomhomes.net/wp-content/uploads/2016/08/logo.png
randknew
2015-10-05 10:24:46
2016-11-04 07:11:23
New Homes by Building Contractors in Greensboro, NC Have Advantages