New Homes in Greensboro Include Top 2015 Housing Trends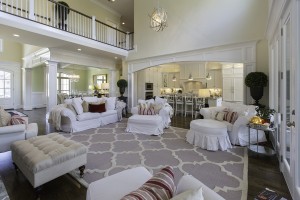 In the custom home building industry, there are certain trends that stand the test of time, and other trends that will come and go. Some trends may be hard to predict, but some, experts say, have gained in popularity over the years and are expected to draw great attraction in the housing industry this year. New homes in Greensboro have moved towards more energy-efficient home designs, open indoor spaces, integrated technology, and the use of natural materials in kitchens. Clever and attractive storage features and beautiful, functional garages are also topping the trend list with custom home builders in NC. R & K Custom Home Builders understands which trends are here to stay, and build homes with current features and amenities, as well as classic appearances, so every house is impressive and inviting.
Custom Home Builders in NC Design Open Floor Plans for Families
Here's a look at one of the main design trends for the 2015 housing market, according to www.realtormag.realtor.org:
"Open spaces go mainstream. An open floor plan may feel like old hat, but it's becoming a wish beyond the young hipster demographic, so you'll increasingly see this layout in traditional condo buildings and single-family suburban homes in 2015. The reason? After the kitchen became the home's hub, the next step was to remove all walls for greater togetherness."
Open floor plans use large, open spaces to connect rooms by minimizing the use of walls and small, enclosed areas. Years ago, the kitchen was separate from the dining room, which was separate from the living room. Today, the open floor plan offers a more contemporary, free-flowing design that encourages social interaction among family members or a larger number of people without feeling cramped. Open floor plans are also perfect for young families with small children. While dinner is being prepared in the kitchen, the children can still be supervised in the den. R & K Custom Home Builders understands that each customer has their own preferences to make their home unique. By staying current with the latest trends, R & K Builders has the expertise and knowledge to make your home beautiful, cohesive and functional.
Convenient Technology Charging Hub in Homes is Trending
Technology is here to stay, with devices becoming smaller and the need for Wi-Fi and charging stations becoming more and more mainstream. Traditional, large home offices are steadily being replaced with more blended designs that include technology conveniences, as mentioned on www.realtormag.realtor.org:
"Charging stations. With the size of electronic devices shrinking and the proliferation of Wi-Fi, demand for large desks and separate home office is waning. However, homeowners still need a dedicated space for charging devices, and the most popular locations are a corner of a kitchen, entrance from the garage, and the mud room."
Integrated work areas, where MacBooks, iPads, and cell phones can be charged, along with a dependable Wi-Fi modem area, makes technology a breeze in new home layouts.
New Homes in Greensboro have Increased Focus on Garages and Storage
When you move into a new home, it is a great time to organize all of things that you own. Greater organization leads to greater peace of mind, knowing that you can find items quickly and easily. New homes are being designed with easily accessible storage areas, attractive and well-organized garages and closets, and better use of cabinets within the home and garage. Here's a look at these trends in detail, provided by www.realtormag.realtor.org:
"Homeowners want everything to have its place," says designer Jennifer Adams. More homeowners are increasingly willing to pare the dimensions of a second or third bedroom in order to gain a suitably sized walk-in closet in their master bedroom.
Grander garages. According to Troon Pacific, the new trends here include bringing the driveway's material into the garage, temperature controls, sleek glass doors, specialized zones for home audiovisual controls, and a big sink or tub to wash pets."
Your new home in Greensboro can reflect all of the unique qualities and character that is specific for your family. R & K Custom Home Builders creates floorplans that encompass the qualities and design features that are important to you. With meticulous work and spectacular craftsmanship, you can be assured that every aspect of your new home functions flawlessly and is built to last a lifetime. Plan your dream home with us and receive top quality construction, dependable customer service and outstanding results from one of the best custom home builders in NC. Your vision will become a reality with our competent team. Call us today at 336-643-3503.
(Source: 21 Hot Housing Trends for 2015, realtormag.realtor.org, 2015)
https://www.randkcustomhomes.net/wp-content/uploads/2016/08/logo.png
0
0
randknew
https://www.randkcustomhomes.net/wp-content/uploads/2016/08/logo.png
randknew
2015-05-13 19:21:33
2016-11-04 07:16:09
New Homes in Greensboro Include Top 2015 Housing Trends