Simple, Smart Ways to Create More Space in your Home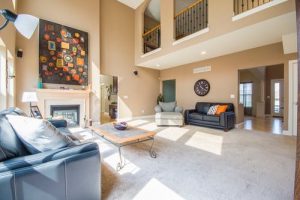 Are you embarking on the exciting journey of designing and building your very own custom home? Working with Greensboro builders to create the home of your dreams is an amazingly rewarding process. When it comes to the layout of your home, one of the most important design aspects to focus on is maximizing space. There are many design elements that can be incorporated into your new home design to maximize both storage and living space. Consider the following and discuss your favorites with your builder. 
Natural Light Makes a Room Feel More Spacious 
Plenty of windows, especially large ones, let in a lot of natural light, which makes any room seem larger. Natural light is also more efficient, meaning you won't need as much artificial light and your energy bill will be lower. It's important to choose well-insulated windows that won't let in outside air or let conditioned air escape, or you won't be saving as much energy as you thought. 
Households of Today Need Plenty of Storage 
You can never have too much storage these days. Ample storage spaces allow for greater organization so that the rooms that are meant to be lived in can be used for their proper intention without too much clutter. Less clutter means less stress for people of all ages. So don't skimp on the closets and built-in storage spaces. 
Add Vertical Space with High Ceilings 
Incorporate higher ceilings in your home to make rooms feel larger without taking up any additional floor space. This can look like cathedral ceilings in foyers and living rooms or just 9-foot ceilings throughout the home instead of the typical 8. Intricate ceiling designs can draw visual focus upward, also creating the feel of more space in each room.  
Open Floor Concepts Create Space with Fewer Walls 
When you have fewer walls separating rooms, the main living areas can feel much larger. Instead of a closed-off kitchen, living room, and dining room, the whole space can be opened up into one large room. Furniture can be used to designate the use of each part of the open space.  
Pocket or Sliding Doors Prevent Wasted Space for Swinging Doors 
Pocket doors where the door itself slides into the wall can save a lot of space in your home. You don't have to design space for doors to swing out into the room. This can work well with bathroom doors, closet doors, bedroom doors, and more. The whole layout can be much easier to design by taking swinging doors out of the equation. 
Skilled, Experienced Greensboro Builders Can Maximize Space in Your Home Design
If you want to make the most of interior space in your new custom home, discuss this with your builder. Experienced Greensboro builders, such as R&K Custom Homes, can design your home to be as space-friendly as possible so that not a single square foot is wasted. State-of-the-art design features and current technology make home layouts smarter than ever before, which are just a couple of the many benefits of building a new custom home. Call R&K Custom Homes today to get started on your space-saving home design today: (336) 362-5225.
https://www.randkcustomhomes.net/wp-content/uploads/2016/08/logo.png
0
0
Chaunte Rankin
https://www.randkcustomhomes.net/wp-content/uploads/2016/08/logo.png
Chaunte Rankin
2018-10-07 15:55:09
2019-01-18 16:00:42
Simple, Smart Ways to Create More Space in your Home