8 Built-in Storage Ideas for your Custom Home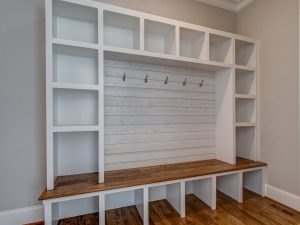 Storage space is in high demand. It has become one of the most important features homebuyers look for in a home. The key to useful storage spaces is to make them functional, convenient, and attractive. You want storage that is easy to access, near the places where the items to be stored are used and inconspicuous so that it blends in with the rest of the home décor. This can best be achieved by incorporating storage space into the design of the home. Here are 8 built-in storage ideas from one of the best of the custom home builders in Greensboro, NC.
Utilize Space Under Stairs.

The space under staircases in multi-story homes has been used in a variety of ways from bathrooms to closets. Make the best use of this space with organizational tools such as slide-out panels for coat racks, shoes, books, games, and more.
Built-in Seating with Storage.

Bench seating along the walls of a room or a window seat offers ample room for storage underneath. This type of storage serves a dual purpose.
Recessed Bathroom Shelves. "

Recessed" refers to shelves that are built back into the wall as opposed to jutting out from the wall. They offer a place to put personal items, towels, candles, etc. without wasting space unnecessarily in a small room.
Built-in Entertainment Center with Doors.

Save space and include extra storage in your living room with a built-in entertainment center. With a designated space for the TV surrounded by shelves for storing movies and games, you won't need a big piece of furniture. Enclose the entire space around the TV with doors to cover the shelves.
Accessory-Cabinet Behind Full-Length Mirror.

Save yourself trips back and forth to your full-length mirror by storing accessories in a tall recessed cabinet with the mirror on the inside of the door. Try on jewelry, scarves, and more conveniently stored behind the mirror.
Built-in Desk and Office Cabinetry.

Avoid bulky office furniture by building in a desk and storage cabinets in your office. Include space for computer equipment and office supplies.
Sliding Storage Wall.

One of the newest features in storage is the sliding storage wall. It moves on runners attached to the wall, giving you adjustable rooms with built-in storage space inside.
Recessed Storage Behind Art.

Want the ultimate disguise for storage? Put cabinets behind art using the piece itself as the door and your guests will be none the wiser.
Get these and More Strategic Storage Solutions from Home Builders in Greensboro, NC
If you're interested in using any of these ideas in your custom home, or you wish to learn about additional storage options, call R&K Custom Homes at (336) 362-5225 for a free consultation. Work with a builder who understands your need for ample storage, who can offer innovative solutions other builders don't. The home of your dreams with the storage of your dreams is possible to achieve with the help of R&K Custom Homes.
https://www.randkcustomhomes.net/wp-content/uploads/2016/08/logo.png
0
0
Chaunte Rankin
https://www.randkcustomhomes.net/wp-content/uploads/2016/08/logo.png
Chaunte Rankin
2019-11-14 19:04:29
2019-11-14 19:04:29
8 Built-in Storage Ideas for your Custom Home