7 High-Tech Appliances for your Custom Kitchen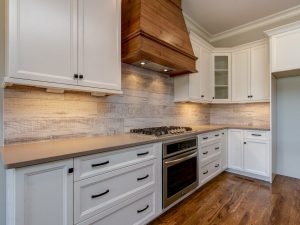 Are you designing the custom kitchen of your dreams? In addition to choosing colors, backsplash, countertops, and cabinets, don't forget to stock your kitchen with the latest high-tech appliances. Not only are the newest gadgets convenient, they are also extremely efficient, helping you keep your energy bills low. Greensboro home builders can help you incorporate these top 7 appliances for 2019.
Perfect Bake Pro
Like to bake? Eliminate the margin for error with the Perfect Bake Pro. Using a system of scales connected to your smartphone, you will know immediately if you put too much of an ingredient into the mix. The app can even help you to correct the problem by compensating for the error.
Bluetooth Thermometer
Using wired probes that are Bluetooth connected to your smartphone, this thermometer can monitor two dishes as they are cooking to let you know when they reach the desired temperature.
Sous Vide
This latest cooking technique involves vacuum sealing food (usually meat) and cooking it fully submerged in water. It keeps the food moist and not overcooked. Sous Vide devices are available or you can purchase just an immersion circulator that fits on a pot you already own.
Steam Oven
Control your oven from an app on your smartphone and cook your meals and desserts to perfection using the power of steam. You can look up recipes through the app and even preset your oven to come on at a certain time and temperature.
Alexa-Controlled Microwave
If you have an Amazon Echo device you can purchase a microwave that responds to commands through Alexa. Save time and effort in preparing simple meals and snacks.
Smart Phone-Controlled Coffee Maker
Tell your coffee maker to start brewing coffee before you even get out bed using your smartphone. Sleep in longer on the weekends and save time on busy work mornings.
Smart Refrigerator
The latest smart fridges allow you to adjust temperature settings, monitor ice-making, and some even have cameras inside so you can see what you're out of before going to the grocery store.
Get the Latest Kitchen Design Trends from Greensboro Home Builders
Do you want your kitchen to be on the cutting edge of technology and design? R&K Custom Homes creates kitchens that are attractive and functional with the latest smart features and appliances built right in. Enjoy your time in the kitchen more than ever by making it easier to cook your favorite dishes. Or spend less time in the kitchen by controlling your kitchen appliances from your phone. Whatever your culinary goals, there are high-tech kitchen appliances that can help you achieve them.
Work with Greensboro home builders who keep up to date on the latest kitchen design trends so that your kitchen will be as current as possible. Call R&K Custom Homes today at (336) 362-5225 to schedule a free consultation.
https://www.randkcustomhomes.net/wp-content/uploads/2016/08/logo.png
0
0
Chaunte Rankin
https://www.randkcustomhomes.net/wp-content/uploads/2016/08/logo.png
Chaunte Rankin
2019-11-18 16:12:53
2019-11-18 16:57:01
7 High-Tech Appliances for your Custom Kitchen