Luxury Homes: The Latest Trends in Master Bedrooms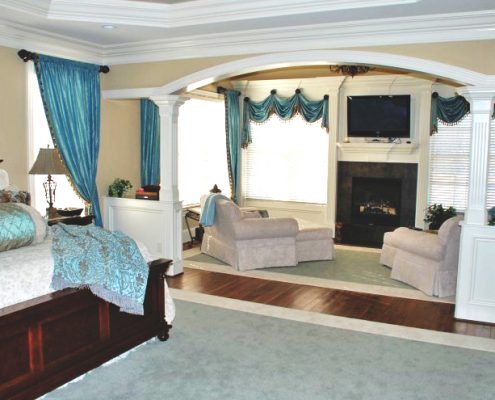 It's your haven, your retreat, your resting place—the master bedroom. It may not often be seen by guests, like your kitchen or your living room, but it should still be a beautiful, luxurious room where you can rest and relax. There's more to a luxurious bedroom than just the size of it. There are windows, closets, ceilings, walls, floors, and more that all come together to make the bedroom your place of solace. You just need to find the right custom home builders in NC to make it happen. Consider these current trends in master bedroom design.
Office Alcove. Whether or not you have a home office, it can be convenient to have a desk and office alcove in your master bedroom. A section of the room with an archway, or a nook off to one side offers a semi-private space to work.
Kitchenette/Coffee Spot. For those lazy mornings when you don't even want to leave the bedroom to get coffee, a small kitchenette in the master bedroom can be a dream come true. Reminiscent of a hotel room, a minibar, wine cooler, drink refrigerator, microwave, sink—whatever you need can be right at your fingertips without leaving the bedroom.
Outdoor Access. Imagine French doors opening onto a balcony or sliding glass doors that lead out onto a back patio or deck, possibly to a pool or hot tub. Master bedrooms with exterior doors offer an atmosphere of resort-style living at home.
Window Seat. A classic element that never goes out of style, a window seat offers additional built-in seating in the master bedroom. Sit and read while taking full advantage of the natural light coming in. Soak up extra vitamin D that helps battle the doldrums of winter.
Wall of Glass. If you're lucky enough to be building on a home site with a view, consider a wall made entirely of glass to enjoy the beauty of the landscape to the fullest. Glass is now engineered to allow you to see out without letting others see in, so you won't need blinds or shades.
Elaborate Ceilings. Vaulted ceilings aren't just for living rooms and foyers. Make your master bedroom feel even more spacious with higher ceilings. Ceiling beams achieve a grander look and skylights let in more natural light. Give your master bedroom some character by giving special attention to ceiling design.
Closet and Storage. A luxurious master bedroom is complemented by a luxurious, spacious closet. A large walk-in closet or even his and hers closets with organizational features built-in make for a tidier bedroom and convenient access to clothing and shoes.
Get the Luxury Master Bedroom of your Dreams with one of the Best Custom Home Builders in NC
R&K Custom Homes understands your need for rest and relaxation in a grand, spacious master bedroom. One of the best custom home builders in NC, R&K will incorporate the latest trends and conveniences into your design to give you the dream master bedroom you've always wanted. Call (336)643-3503 for a free consultation.
https://www.randkcustomhomes.net/wp-content/uploads/2016/08/logo.png
0
0
Shawna Black
https://www.randkcustomhomes.net/wp-content/uploads/2016/08/logo.png
Shawna Black
2018-04-20 15:30:58
2018-06-21 15:51:36
Luxury Homes: The Latest Trends in Master Bedrooms