New Home Construction 101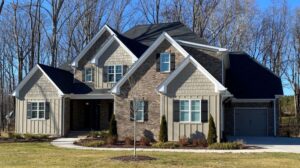 Are you considering building a custom home in Greensboro? Before you get started, it will be helpful to learn some of the common terms used by builders to discuss home building plans. This will help you to feel more prepared and know what to expect from consultations with potential builders.
Plot plan: This diagram shows the lot and where the home will be situated on the property.
Foundation: The first stage in home building is digging and placing the foundation, which is the base for the house.
Superstructure: The outer walls, roof, doors, and windows of a home.
First Fix: Internal walls, stairs, plumbing, electrical, and HVAC are added.
Second Fix: Fixtures go in for the kitchen and bathrooms. Light switches and outlets are installed.
Decoration: This stage includes painting, flooring, tile, light fixture installation, and everything that is cosmetic.
Walk-through: When the builder has completed the home, the homeowner will do a walk-through and point out anything that needs to be addressed.
Punch List: The list of items found during the walk-through go on the punch list. When the punch list has been completed, the home is complete.
Blueprints: The construction plans for the home on paper. These are what the builder uses as a guide to build the home.
HERS Index: Home Energy Rating Standard. This is the total energy efficiency rating for your home.
R&K Custom Homes Makes Building a Custom Home Look Easy
If all these terms seem overwhelming to you, don't worry. If you're looking to build a custom home in Greensboro, R&K Custom Homes can make the process easy to understand. There's no mystery and no confusion. You'll be fully informed every step of way as your custom home is designed, constructed, for you using the highest standards of construction.
Call (336) 362-5225 or get in touch today to schedule your free consultation.
https://www.randkcustomhomes.net/wp-content/uploads/2016/08/logo.png
0
0
R & K Custom Homes
https://www.randkcustomhomes.net/wp-content/uploads/2016/08/logo.png
R & K Custom Homes
2021-04-20 19:15:16
2021-09-02 19:16:58
New Home Construction 101