10 Things to Include in your Master Bathroom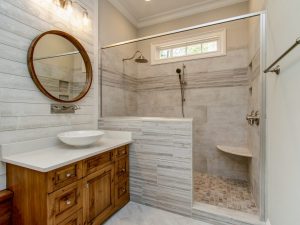 The master bathroom. It's your haven, your place of relaxation and peace. At least it can be if you take the time to design it well. Some of the top homebuilders in Greensboro, such as R&K Custom Homes, have designed many luxurious master bathrooms. Here are some things you may want to include to make your master bathroom look and function beautifully.  
Accessibility. 

One of the top ideas to consider is a fully accessible bathroom. Plan for the future or the unknown by designing your bathroom to be wheelchair accessible. Curb-less shower with bench, plenty of handrails, a spacious water closet with high toilet, a walk-in jetted soaking tub, 

and both 

l

ow and high sink/vanity spaces are all features that may come in handy someday. 

 

Sunken tub.

 If your goal for your master bathroom is luxury, consider including a sunken tub with jets. 

Step right in and soak to your heart's content.

 

Sauna.

 Is this a bathroom or a spa? Can't it be both? Include a sauna in your master bathroom and enjoy a steam to ease into the day or to relax you before bed.

 

Steam shower.

 Speaking of steam, a steam shower is another luxury you need for your master bathroom. Shower in a cloud of warm steam and expel the winter chill or avoid the cool draft of the AC when it comes on during your shower.

 

Heated towel rack.

 After a soak in your tub, a relaxing steamy shower, or a sweat session in your sauna, a warm towel feels amazing. 

 

Handheld shower head.

 

Not just an item for an accessible shower, a handheld showerhead can be very convenient. It can be held or mounted and makes washing yourself and cleaning your shower easier. 

 

Smart toilet.

 Get a toilet with extra features like 

a 

heated seat, bidet, 

dual flush, soft close lid, and more. 

 

Storage.

 Be sure to include plenty of storage space from cabinets to a linen closet to medicine cabinets. 

 

Skylight. 

A bathroom should have plenty of natural light, and a skylight provides both light and privacy. 

 

TV. 

Ever wished you could watch TV while soaking in your tub? Want to catch the morning news while you get ready for the day? Include a TV in your bathroom and you'll be glad you did. 

 
Choose one of the Elite 
Homebuilders in Greensboro 
to
 give you the Master Bathroom of your Dreams
If these luxuries sound like items you want to include, your custom builder can do it for you. Working with one of the best homebuilders in Greensboro allows you to pick and choose the features you want for your home. Incorporate all the luxuries available or choose which ones you have to have or can do without to create a bathroom that is both functional and relaxing. R&K Custom Homes can help you design the master bathroom of your dreams complete with all the latest features and styles. Not all homebuilders in Greensboro offer the same customer care and quality craftsmanship as R&K Custom Homes. Call today to discuss not just your master bathroom, but also the rest of your ideas for your dream home: (336) 362-5225.  
https://www.randkcustomhomes.net/wp-content/uploads/2016/08/logo.png
0
0
Chaunte Rankin
https://www.randkcustomhomes.net/wp-content/uploads/2016/08/logo.png
Chaunte Rankin
2019-06-25 17:37:55
2019-07-16 17:42:32
10 Things to Include in your Master Bathroom