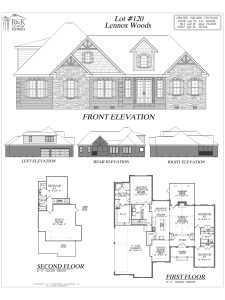 When designing a custom home, one of the biggest decisions to make is what kind of floor plan you want. There are open floor plans, split-level floor plans, single level, multi-level, and all sorts of layout options within the vast array of choices. It can seem overwhelming but R&K, one of the most experienced home builders in Greensboro, NC, can help make the decision easier. Consider these questions to help you choose the right floor plan for your new home.  
What Are My Family's Needs?

 

Think about your needs and those of the rest of the members of your family. Who will be living in the home? Will it need to be fully accessible for older family members? Are there young children who will need space to move about and play? Consider the needs of everyone before choosing a floor plan for common space and personal space. 

 

What Will My Family's 

Needs

 Be in 10 Years?

 

Think about the future. Will the family be growing? Will age be a concern for any members? What about mobility? Be sure to consider how your family will change in the years following the building of the home and how long you plan to live there. 

 

What is My Current Home Lacking?

 

What are you looking for in your new home that your current home doesn't have? Are you looking for more space? More natural light? More privacy? What can a new home offer that would influence the type of floor plan that would please you?

 

Does the Lot Have Any Unusual Characteristics?

 

Is the lot on a hill or sloping? Would it be easier to build the home to accommodate the lay of the land or would it be preferable to regrade the land? Are there natural elements to build around, such as trees or water?

 

What Type of Floor Plan Will Best Fit Our Lifestyle?

 

Is your family loud and boisterous, or quiet and 

relaxed? Does the floor plan need to compliment the family

's

 personality or attempt to counteract it? 

 

What Do I Want in a Kitchen?

 

The heart of the home, the kitchen, is a large part of the floor plan for the shared living space in your home. Do you enjoy spending time in the kitchen cooking and baking? Do you prefer to cook alone or do 

you want to be able to socialize

 and prepare food simultaneously? Be sure to design your kitchen to suit your preferences. 

 

What Plan Best Fits My Personal Style?

 

Do you prefer a cozy country farmhouse or a more modern architectural style of home? The floor plan can set the tone for the style of the home and make a big impact on the look and feel of it. 

 
Custom Design your Floor Plan with One of the Best Home Builders in Greensboro, NC  
When you want a home that is unique and reflects your own personal style, choose one of the elite custom home builders in Greensboro, NC to create it for you. R&K Custom Homes are all original designs; one home is never exactly like another. Each floor plan is unique with each homeowner's personal preferences and choices put in place. Ready to build your dream home? Call R&K Custom Homes today and schedule a consultation: (336) 643-3505.  
https://www.randkcustomhomes.net/wp-content/uploads/2016/08/logo.png
0
0
Chaunte Rankin
https://www.randkcustomhomes.net/wp-content/uploads/2016/08/logo.png
Chaunte Rankin
2019-07-25 14:17:05
2019-08-21 14:21:13
7 Questions to Ask Before Selecting a Floor Plan